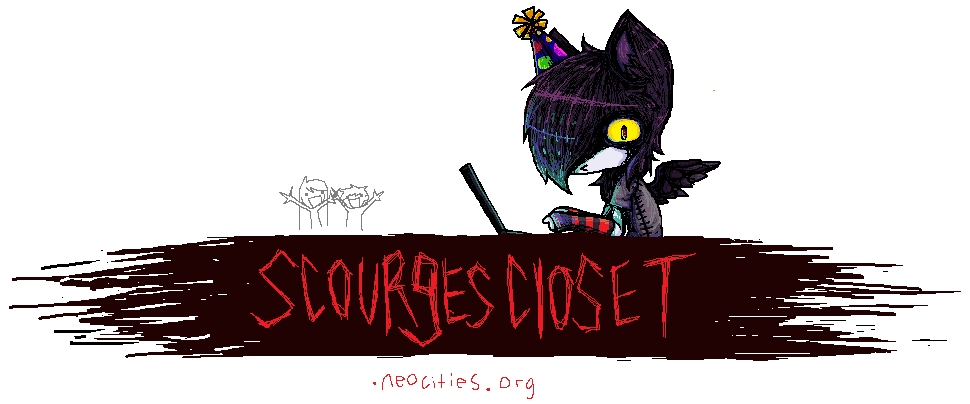 ?!?!?!??!?!?!?!?!
wWELCOME 2 MY WEB!SIT!!!E
welcome 2 my web!!!! my name is SCOURGE and ill be your tour guide!!!!!!!!!!!! i made this site back on august 1st 2021 as a form of self expression in this lonely landscape we call "the internet" ...

... what im trying to say is twitter bad

I HOPE U ENJOY UR ACID TRIP THROUGH PURGATORY!! :)
WHATS UP?? WUT DID I MISS??
UPDATES !!!!!

7/10-11/2023:
new nav :-) + little fixes
1/7/2023:
ABOUT ME PAGE COMPLETELY REDONE!! ALSO HAPPY NEW YEAR!! theres more i wanna do w it but i just really needed it redone
12/21/2022:
NEW LAYOUT!!!!!!!!!!!!!!!!!!!!!!!!!!!!! TBA
8/30/2022:
DREAMCORE IS COOL!! GO CHECK OUT THE NEW EYEBALL DOORWAY OVER IN FUN STUFF!
7/12/2022:
new art :D
6/22/2022:
random scourge fact generator added to about me, windows xp theme, and biggest of all ART PAGE!!! GO CHECK IT OUT!!!
6/5/2022:
late update but ABOUT ME PAGE!!!!!!!!!!
5/22/2022:
NEW LAYOUT!!!!!
4/23/2022:
MAJOR UPDATE ON THE INDEX PAGE!!!!!! COUL TALKS!!!!!!!!
4/19/2022:
INDEX PAGE UPDATES!!!!!!!!! NEOCITIES DISCORD!! AND A TRADITIONAL ART FOLDER IN THE GALLERY!!
3/13/2022:
GO CHECK OUT THE GALLERY!! IM SUPER PROUD OF IT!!
2/24/2022:
NEW ART IN THA ENA SHRINE!!!
2/22/2022:
HAPPY TWOSDAY!! ALSO U CAN NOW SUBMIT UR OWN GIFS 4 THA GENERATOR
2/20/2022:
velentines day is OVER!!!!!!!!!! also A TINY BOX TO SHOWCASE WEBFINDS + CLICK FOR A GIF!!! I DID A JAVASCRIPT
2/12/2022:
added a random thoughts section to the random ramblings page, also a chat box :D
2/10/2022:
some valentines day decorations! :D (floating hearts cursor js)
2/8/2022:
added a poll (if u guys like these ill do more)
2/7/2022:
started working on da blog!
2/5/2022:
tha randum links n downloads page is (mostly) complete and ive started putting tha buttons in rainbow order
2/4/2022:
about me page is mostly done!
1/31/2022:
in my infinite genius ive realized just how many things i forget and made a to do list
1/28/2022:
made some style changes to the yesterweb link thing
1/26/2022:
fixes to the mushroom room
1/25/2022:
you can now visit tha ena shrine!!
1/21/2022:
added Sasha the hall monitor and removed the under contruction banner in the hallway!
1/18/2022:
added a fave sites section, started a side bar, and added a questbook button!!
1/14/2022:
made a web button with the html! my first time using a text area hehe
1/5/2022:
sum fixes on de update box (mostly to da scroll wheel) and slight fixes 4 mobile view
1/3/2022:
"under construction" gif above the door
1/2/2022:
the addition of an update box and guardian rabbit >:P