MEET THE WEBMASTER!!!!
HELLO!! I AM SCOURGE!! THE WEBMASTER!!!!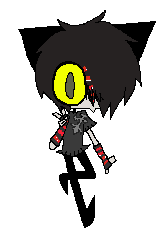 ◄◄◄ I LOOK LIKE THIS!!!!!!!
BASIC INFO
NAME: SCOURGE
SPECIES: EVIL
GENDER: JEFF THE KILLER
PRONOUNS: THEY/IT/HE/ZIP/ZOOP
SEXUALITY: UR MOM
AGE: 2011 YEARS OLD

FAVORITES
color? - generally, green and purple, bur rn its RED!!!!
---
food? - FUCKIN IUNNO GOLDFISH???? CHICKEN NUGGETS???????? SUSHI MAYBE??????
---
band? - I DONT LISTEN TO MANY BANDS BUT MY CHEMICAL ROMANCE, 100 GECS, SLEEPING WITH SIRENS, AND FALLING IN REVERSE R SUM OF MY FAVES!!!!!
---
movies/tv? - I STARTED WATCHING SONIC X I LOVE IT SM!!!! I ALSO LIKE INVADER ZIM, NIGHTMARE B4 CHRISTMAS, MLP, SOUTH PARK, WORDGIRL, GRAVITY FALLS, AND THE OWL HOUSE (NO SPOILERS I HAVENT WATCHED THE NEW SEASON YET)
---
youtubers? - IDK PROLLY KURTIS CONNER, TUV, AND STAMPY
---
animal? - FOXESSSSSS ALSO CATS AND FISHIE!!!!!!!!
INTERESTS
THE INTERNET!! old web and web design (duh), creepypasta + pastamonsters, art and animation, cartoons, old tech, minecraft, tea, mushrooms, foxes, horror, true crime, nonhumanity, and autism
KIN LIST!!
hehhehe kin list more like kringe list
disclaimer i am using the tiktok def for kin here
jeff the killer (creepypasta + pastamonsters)
flutterbat (mlp)
ena (ena)
fluttershy (mlp)
scourge (warrior cats)
sonic (sonic x)
zim (invader zim)
gir (invader zim)
bill cipher (gravity falls)

you are tan
#D2B48C

Your dominant hues are red and yellow... most of what you do is motivated by your need to change things and have a good time, but you've been known to settle down and think out a situation, too. You tend to surprise people just when they're starting to feel like they've got you down.

Your saturation level is low - You stay out of stressful situations and advise others to do the same. You may not be the go-to person when something really needs done, but you know never to blow things out of proportion.

Your outlook on life is brighter than most people's. You like the idea of influencing things for the better and find hope in situations where others might give up. You're not exactly a bouncy sunshine but things in your world generally look up.

the spacefem.com html color quiz